Alegria de viver
SCULPTURE (to Artist): "I made you. I shaped you as a sculptor." 
The clash between a sculptor and his sculpture about the value of art, the role of the artist and the cultural market is the basis of Alegria de Viver. On stage, a Sculptor plans to get rid of his past works to start searching for new artistic forms.
A Sculpture comes to life to claim its place. As in a kaleidoscope, characters take turns on both roles: who is the artist and creature?
The result is a light show, full of beauty, poetry, plot twists, and humor.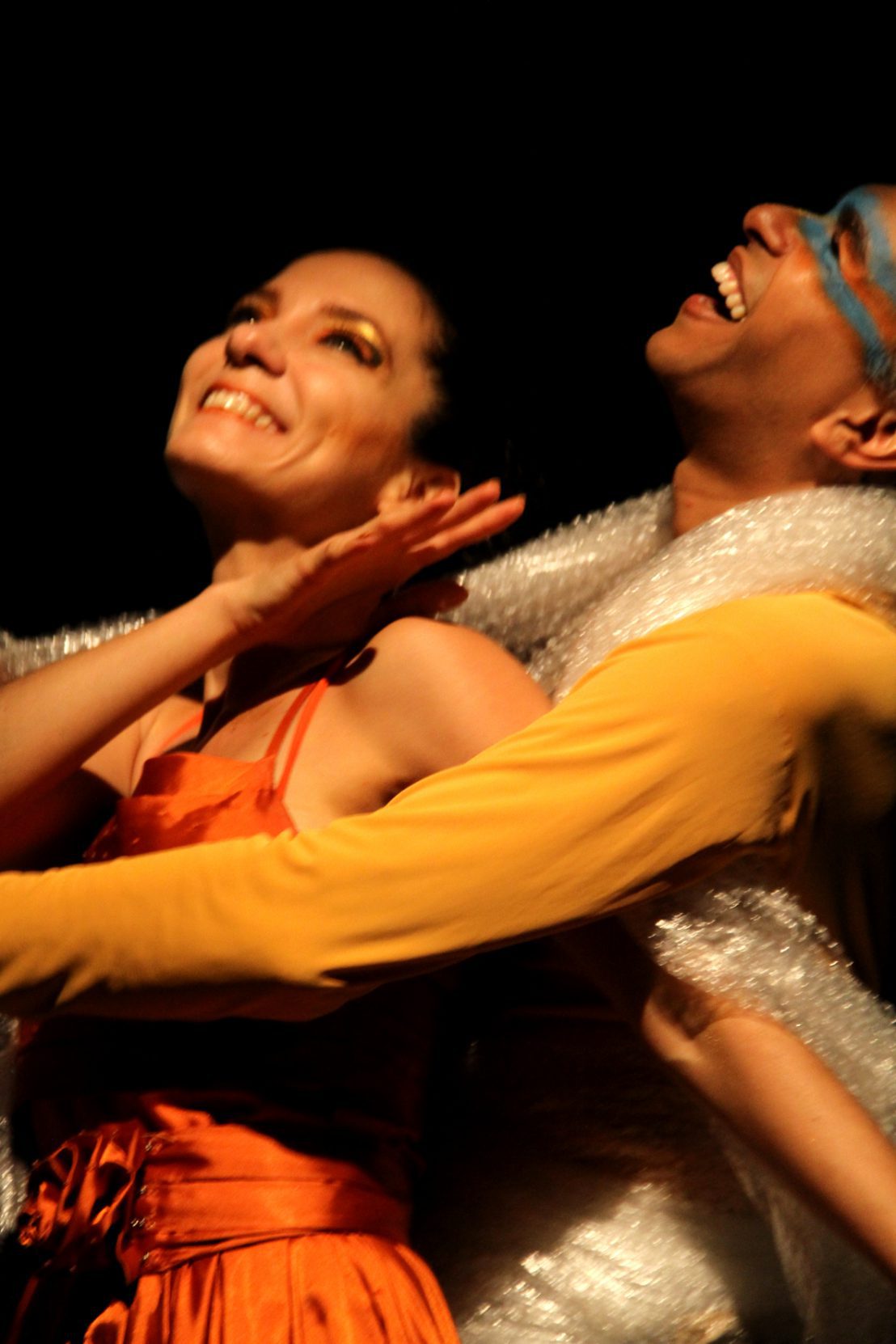 Cast and crew
Written by: Deborah Moreira
Directed by: George Mascarenhas
Cast: Deborah Moreira e George Mascarenhas
Videos devised by: Dedeco Macedo
Light designer: Luciano Reis
Set and costume design by: Mimus – Cia. de Teatro
Music direction: Luciano Salvador Bahia
Running history
Opening: Teatro do ICBA – Instituto Goethe (Salvador – BA) – may 2009
Performances
Instituto Goethe (Salvador-BA) – may/june 2009
Teatro SESI -Rio Vermelho (Salvador-Ba) – aug/sept 2009
II Festival Nacional de Teatro (BA) – 2010
II Mostra de Mímica Contemporânea (SP) – 2011
Teatro SESI – Rio Vermelho – oct 2011
Circulação interior – Ilhéus/Jequié/Brumado – Ba
III Mostra de Mímica Contemporânea (SP) – 2012
Teatro SESI – Rio Vermelho – oct 2012
Espaço Xisto Bahia – apr 2013 – Mostra Mimus
Projeto Feira Mimus – Feira de Santana (Ba) – Teatro Amélio Amorim – mar 2017
Alegria de Viver was nominated to Prêmio Brasken de Teatro –
2010 for Best Actor(George Mascarenhas) and Best Playwright (Deborah Moreira)