Jogo da memória
What if we could go back in time? What if the choices we made had been different? What if none of that had happened? What if the paths had led somewhere else? What if we could have had more time?
Inspired by the principles and procedures of different games, the show addresses the relationship between remembering, forgetting, and the desire to control time, based on the metaphor of a traffic accident.
On stage, built like a game board, the two actors play eight characters who share their points of view and relive or try to reconstruct the car accident, from their own perspectives.
As in a memory game, the different points of view are demonstrated to gradually build new versions of the fact. The show brings to light the shattered limits of memory and its relationships with time and the frequent desire to change that which belongs to the past.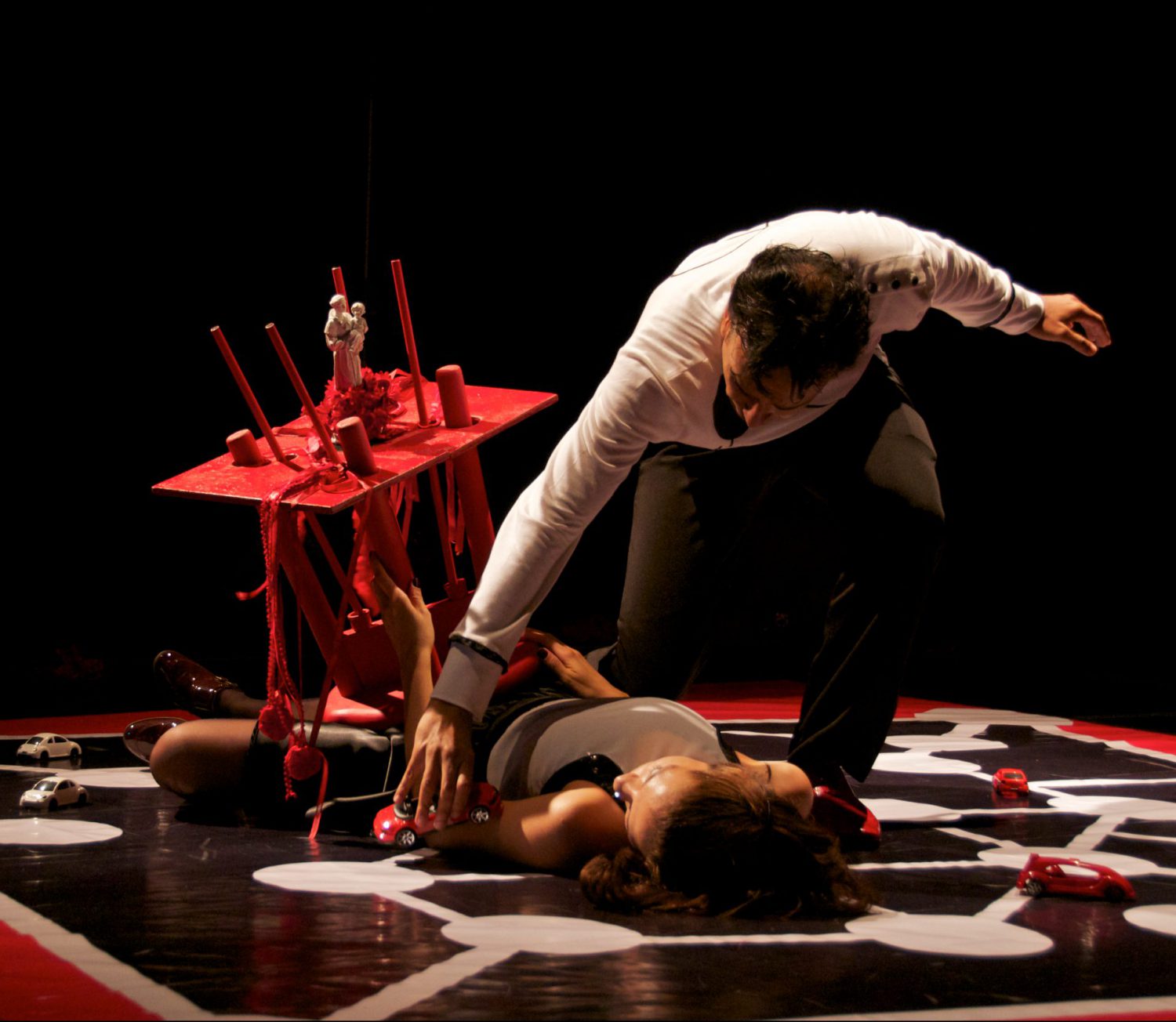 Ficha técnica
Texto: DEBORAH MOREIRA
Direção: GEORGE MASCARENHAS
Elenco: DEBORAH MOREIRA E GEORGE MASCARENHAS
Iluminação: LUCIANO REIS
Trilha sonora: LUCIANO SALVADOR BAHIA
Figurinos:
Concepção: JÔ SOUZA E MARCIO AKIYOSHI
Execução dos looks: MÁRCIO AKIYOSHI
Visagista: WILSON D'ARGOLO
Cenografia e adereços:
Concepção de cenografia e adereços: GEORGE MASCARENHAS
Concepção audiovisual: DEDECO MACEDO
Design gráfico: TINA GUEDES
Running history
Opening: IV MOSTRA DE MÍMICA CONTEMPORÂNEA – São Paulo (SP) – set/2012
Performances
Teatro SESI – Rio Vermelho (Salvador – BA) – oct 2012 – jan. 2013
Projeto Mostra Mimus – Espaço Xisto Bahia – Salvador – BA – apr 2013
Festival Internacional de Mímica de Brasília (DF) – Teatro Plínio Marcos e Teatro SESI – Taguatinga –  may 2013
Projeto Feira Mimus – Teatro Amélio Amorim – Feira de Santana (BA) – apr 2016